This fender is designed so that it may display a low reaction load at an initial deflection stage for a soft shock to a small ship.The wide contacting face lowers the face pressure to secure the safe berthing of small or light construction.
Size Range
H x W1x W2(mm)
Length(mm)
kN-m/m
tf-m/m
100 x 260 x 300
500, 1000, 1500, 2000
2.70
0.28
130 x 260 x 300
4.56
0.46
Portfoilo of FW-Type Fender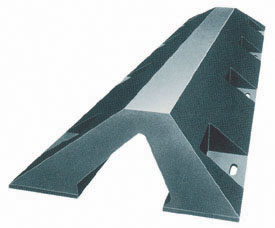 Special tapered(32.5 deg.) legs prevent from hooking and scratching a small ship' belt.
Size Range
H x W1x W2(mm)
Length(mm)
kN-m/m
tf-m/m
150x120x520
1000, 1500, 2000
6.07
0.62
200x160x700
10.8
1.10
Portfolio of T30(Taper30)-Type Fender